NETTWERK Release
June 29 re-release by Nettwerk of Blue Ridge Reveille,
featuring bonus track previously only available on limited run EP,
"Is It You?" duet with Radiogram's Ken Beattie;
The "L" Word
"Drivin You" featured on episode '1-11' of Showtime's The L Word,
which was also included on Tommy Boy Music's compilation of season
one of the same series, featuring Kinnie Starr, Lucinda Williams,
and many more; Season One of The L Word is coming to Global TV
in Canada in August 04, as well as DVD/video in the US soon;
The Grass Is Always Bluer
Nettwerk's bluegrass compilation "The Grass Is Always Bluer" features
"Nightsong", as well as Radiogram's "Summer Song Summer" with assisting
vocals by Shelley Campbell, plus Emmylou Harris, The Jayhawks, Nathan,
and many more talents. All above can be ordered via Amazon.com;

UK Release
August 2 is slated as the UK release of "Blue Ridge Reveille"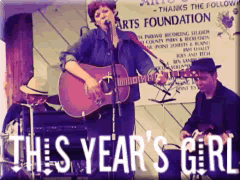 AUBURN invades America!
Check out a few quick video samples from the recent Auburn show
at the Point Roberts Arts & Music Festival, Washington, USA on August 3, 2002.
Shelley even does a tribute to Elvis!
SHELLEY HONOURED WITH PAINTING
FROM R.A.N.C.H. COMMUNITY:
Shelley Campbell was recently surprised with a beautiful painting by Nicole Steen, as gratitude from the entire R.A.N.C.H. community for her tireless efforts in producing and promoting RANCHfest and it's artists.
<click here to view Shelley with her painting>
<click here to view the many other paintings by Nicole Steen>

NEW RELEASE:
Both Auburn's new disc "Blue Ridge Reveille" and debut "Misfit Cafe" are now available across Canada, etc. via SCRATCH distribution www.scratchrecords.com - meanwhile it's available at Highlife Records on Commerical Dr. and Cinephile Video on Main St. in Vancouver. You can also pick one up in person from Shelley at her live performances...see gig listings below.
The new disc is already playlisting nationally/locally on campus/community radio, and internationally, from Florida to the UK.
UPCOMING SHOWS :

every Wednesday in July at The Media Club, 695 Cambie @ Georgia.

July 21 is an early show,
starts at 7 pm.
featuring Shelley solo and followed by
the sweet as mountain honey bluegrass
trio Slowdrag with lead vox of
Mz. Koralee Tonack; $5 cover.

July 28 is a 9 pm. start, $7 cover,
featuring music by Shelley Campbell
with band mates, The Fates, and Nettwerk's Nathan,
who appear on the last track of Nettwerk's
"The Grass Is Always Bluer" compilation disc;